325° - 12-18 minutes. Serves 2 dz
Ingredients:
1 C butter
10 - 12 T powdered sugar
1 t vanilla
2 c flour
cherry pie filling
Directions: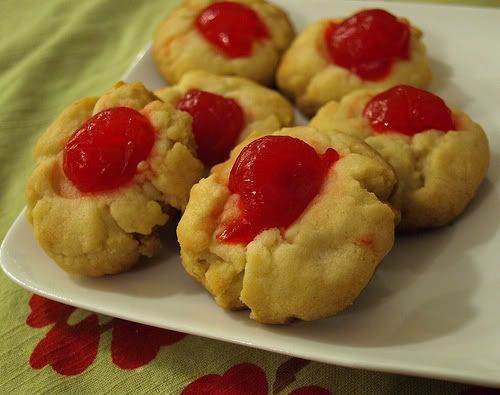 Cream 1 cup of butter or margarine.
Add 10-12 TBSP. of powdered sugar and 1 tsp vanilla. Add 2 cups of flour and mix.
Test the dough by forming a small ball- think bouncy ball. If it cracks, add water until the dough doesn't crack, just little bits at a time.
Form small balls, depress the center with your thumb. Spoon one cherry from a can of cherry pie filling into the depression.
Bake on an ungreased cookie sheet at 325 for 12-18 minutes. Mine cook in 12, but my oven cooks fast. I would cook for 10 and check every minute to figure out. They are done when they are lightly lightly brown on the edges.
These cookies are soft, and delicious- and also vegan if you go with margarine. Make 2 1/2 to 3 dozen. I can fit 20 of them on a big cookie sheet.
Notes:
source: Friend