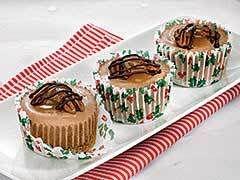 Serves 12
Ingredients:
4 squares BAKER'S Semi-Sweet Baking Chocolate, divided
1 pkg. (11.1 oz.) JELL-O No Bake Real Cheesecake
2 Tbsp. sugar
5 Tbsp. margarine or butter, melted
1-1/2 cups plus 2 tsp. cold milk, divided
24 PLANTERS Pecan Halves
5 KRAFT Caramels
12 REYNOLDS 2-1/2-inch Holly Baking Cups
Directions:
MELT 2 of the chocolate squares as directed on package; set aside to cool. Meanwhile, mix Crust Mix, sugar and margarine with fork until well blended. Place REYNOLDS (2-1/2-inch) Holly Baking Cups in medium muffin pan; spoon crumbs evenly into baking cups. Press firmly onto bottom of each cup.
BEAT 1-1/2 cups of the milk and the Filling Mix with electric mixer on low speed just until moistened. Beat on medium speed 3 min. (Filling will be thick.) Remove 1/4 cup of the filling; place in small bowl. Add melted chocolate; stir with wire whisk until well blended. Add to remaining plain filling; stir gently until well blended. Spoon evenly into prepared cups. Top each with 2 of the pecan halves; set aside.
MICROWAVE caramels and remaining 2 tsp. milk in small microwaveable bowl on HIGH 1 min.; stir until caramels are completely melted. Set aside. Place remaining 2 chocolate squares in another small microwaveable bowl. Microwave until melted, following directions on package. Drizzle melted caramels and chocolate evenly over cheesecakes. Refrigerate at least 1 hour or until ready to serve. Store leftover cheesecakes in refrigerator.
source: Jello