350° - 1 hr 20 minutes. 5 Dozen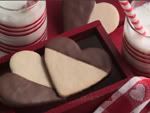 Ingredients:
1/2 cup (1 stick) unsalted butter, softened
2/3 cup sugar
1 egg
1-1/2 tsp vanilla
1-1/4 cups flour
1 tsp CALUMET Baking Powder
1/4 tsp salt
1 pkg (8 squares) BAKER'S Semi-Sweet Baking Chocolate, melted
Directions:
Beat butter and sugar with electric mixer on medium speed until light and fluffy. Blend in egg and vanilla. Mix flour, baking powder and salt. Beat into butter mixture. Refrigerate 1 hour.
Roll out dough to 1/8-inch thickness on lightly floured surface. Cut with heart-shaped cookie cutter. Place on parchment paper lined cookie sheet. Refrigerate 30 minutes.
Bake at 350°F for 10 minutes or until edges are lightly browned. Cool. Dip 1 side of each cookie in chocolate. Place on wire rack to dry.
Notes:source: Kraft Foods