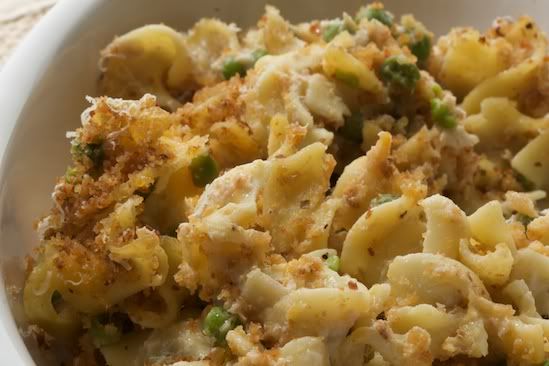 350° - 50 minutes. Serves 4
Ingredients:
6 oz. egg noodles (wide or extra wide), cooked*
1 small can of tuna, drained and flaked with a fork
1 can cream of mushroom soup
1/2 cup milk
1 cup frozen peas, cooked
1/2 cup (or more) grated sharp cheddar cheese
1 cup fresh bread crumbs cooked in 1 T. butter until slightly crisp**
fresh grated parmesan cheese***
Directions:
1. Preheat oven to 350 degrees
2. In a large bowl, stir together first six ingredients until well combined.
3. Spread into a small greased casserole dish then sprinkle bread crumbs and parmesan cheese evenly over the top.
4. Bake uncovered in a preheated 350 degree oven for 30 minutes and serve warm.
Notes:
Double for larger family. I added spinach, artichoke hearts, no milk, a splash of soy milk, elbow mac.
source: Pinch My Salt

Notes from source:
*Don't overcook the pasta! Read the package for times and use a timer. **If you don't want to use fresh bread crumbs, use the seasoned dried kind from the store and cut the amount in half. Toss the seasoned dried breadcrumbs in one tablespoon of melted butter before sprinkling over the top of casserole. ***I now use a good quality parmigiano reggiano sprinkle on the top but we grew up using the stuff in a green can. Just use whatever parmesan cheese you normally keep on hand.